Places
Below are locations we have identified that ancestors from the Van Manen paternal lineage have lived. They are shown chronologically starting with the oldest. All links are to relevant sources for further reading.
Brooklyn's Eighth Ward

City of Brooklyn
Henry Van Manen lived in Brooklyn's Eighth Ward from approximately 1855 until his death in 1866. He and his family lived at the intersection of Third Avenue and 20th Street, at the time of his death. Henry, a carpenter, married Anne Murray. They had two sons, Thomas and Henry, and two daughters, Elizabeth and Annie. Annie died in infancy, and is buried at Greenwood Cemetery.

The Eighth Ward of Brooklyn included Sunset Park and parts of Gowanus and the south end of Park Slope. Henry died on August 23, 1866, and is buried in nearby Greenwood Cemetery, just a few blocks from where he lived. As a widow, Anne Murray lived in Brooklyn's 22nd Ward, west of the 8th Ward, and supported Thomas, Elizabeth, and Henry working as a "laundress," according to the 1870 census. The next two generations of Van Manens go on to live in the Gowanus/Sunset Park/Park Slope area, comprising sections of Brooklyn's 8th and 22nd Wards.
The yellow star on the map indicates the location of the Van Manen residence.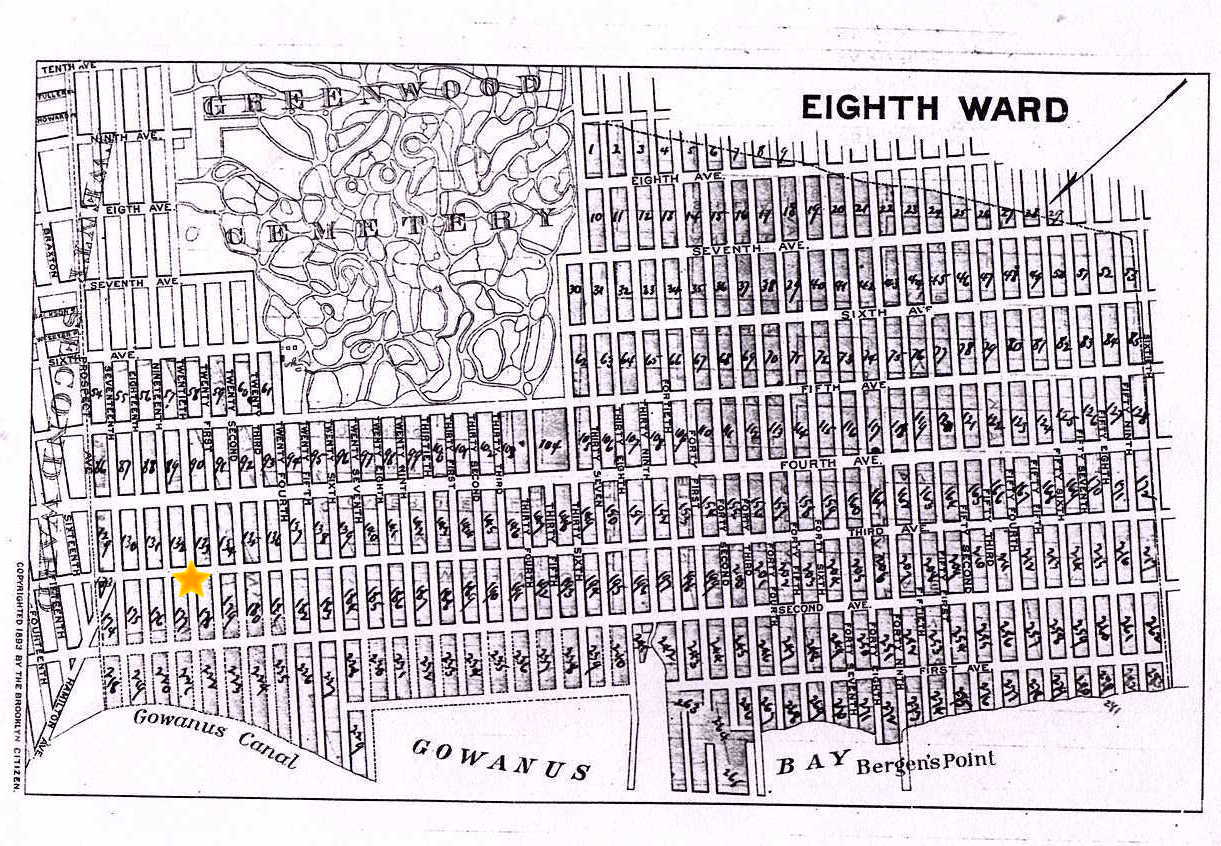 ---
520 4th Avenue
Brooklyn's 22nd Ward
Thomas Van Manen and Anne Mackey lived at 520 4th Avenue in 1892. According to the 1890 Brooklyn Directory, Thomas lived at 497 4th Avenue before moving across the street to 520 4th Avenue. The 1892 Census indicates that their first son, Edmund Van Manen, was one year old at the time they were living here. It is not known how long they lived along 4th Avenue before and after 1892, but we do know they moved to Prospect Avenue by 1900, according to the census from that year.

This apartment building is located near the border of the Park Slope and Gowanus neighborhoods of Brooklyn, known at that time as the 22nd Ward. The buildings in both locations on 4th Avenue have been rebuilt since Van Manens lived in them.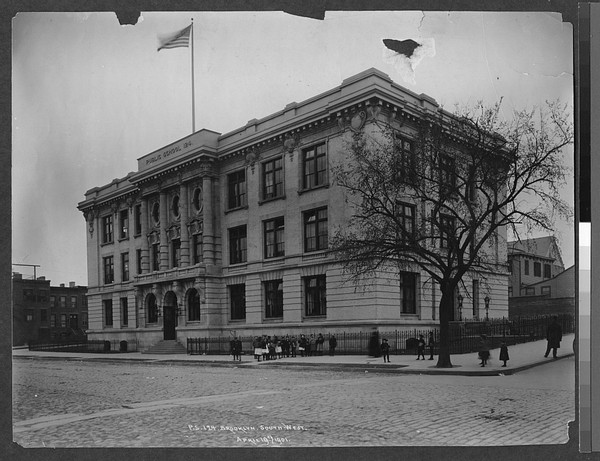 Van Manens lived across the street from P.S. 124 before it was built, and possibly even watched it get constructed. This school is one of the oldest in Brooklyn, and one of the first built after Brooklyn became a part of greater New York City in 1898. It is still in operation today. Notice the cobblestone streets along 4th Avenue.

Photo of P.S. 124 from Brooklyn Library
Collection, 1901
---
194 Prospect Avenue
Brooklyn's 22nd Ward
Thomas and Anne lived at 194 Prospect Avenue in 1900, along with Thomas' brother Henry, according to the census from that year. Francis Desales was two years old. The photo below taken in 1940 shows a building that was likely the one they lived in, and is similar in style to the other buildings on this block that were built in 1899. This was located along the southern end of Park Slope in Brooklyn's 22nd Ward.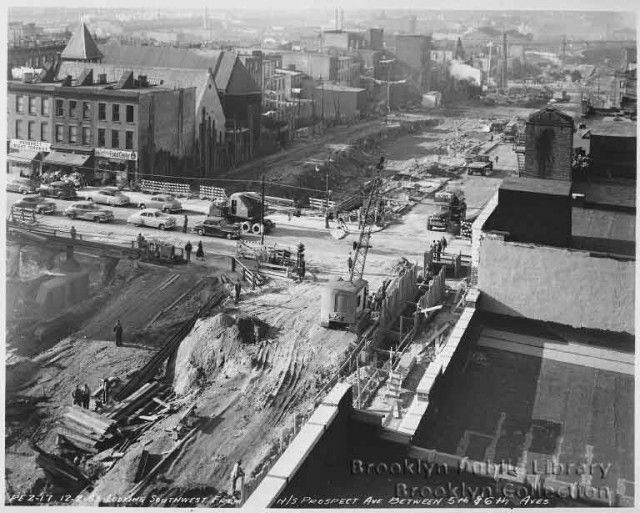 In 1953, long after Thomas and Anne lived here, this house, along with the entire row of houses reported in the 1900 census, were demolished for the construction of the Prospect Expressway. This photo is looking southwest showing the demolition of houses between 5th and 6th Avenue. 194 Prospect Avenue was located between 5th and 4th Avenue, in the far distance of this photo.
Anne died in 1904, and Thomas in 1909. Was this the last house that they lived in?

Photo from Brooklyn Library Collection, 1953
---
178 8th Street
Brooklyn's 22nd Ward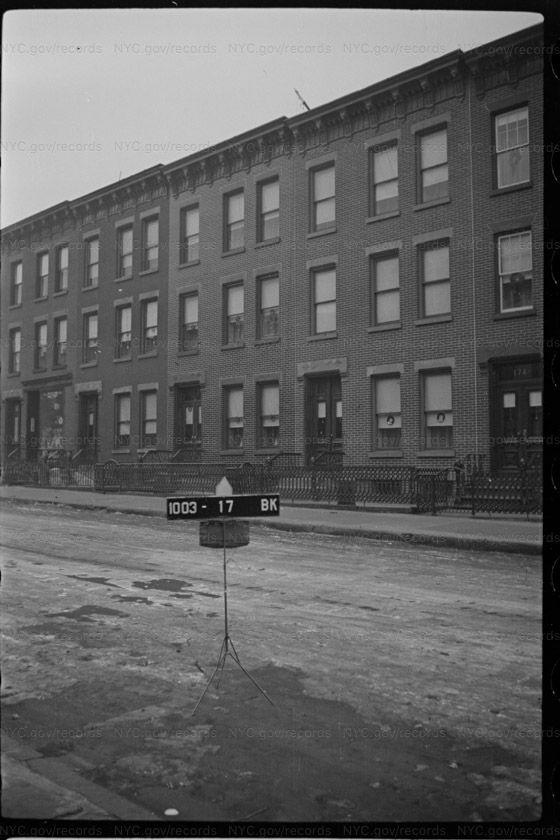 According to a 1921 news article, Francis Desales Van Manen lived at 178 8th Street for some duration before living at the 57th Street, Sunset Park location detailed below. This building was built in 1899, and is located around the corner from the 520 4th Avenue location in the same neighborhood. It is still standing today. In their 1918 marriage announcement, Francis and Gertrude Murphy were located a few blocks away at 45 4th Street, the residence of the Murphy family. Records show that Francis' siblings Edmund, Thomas, and Lionel Charles all lived in the same neighborhood throughout this time.
Photo: 178 8th Street in 1940, NYC Digital Archive
The building at 178 8th Street, Brooklyn as it stands today. This photo was taken in 2021 from Google maps.
---
244 57th Street
Brooklyn's 8th Ward
Francis Desales Van Manen and Gertrude Murphy lived in this building in 1930, according to the census from that year, shown below. Exactly when they moved here is not known. Their children at this time were Gertrude, Irene, and Francis. Gertrude's father, Thomas Francis Murphy, lived with them as well.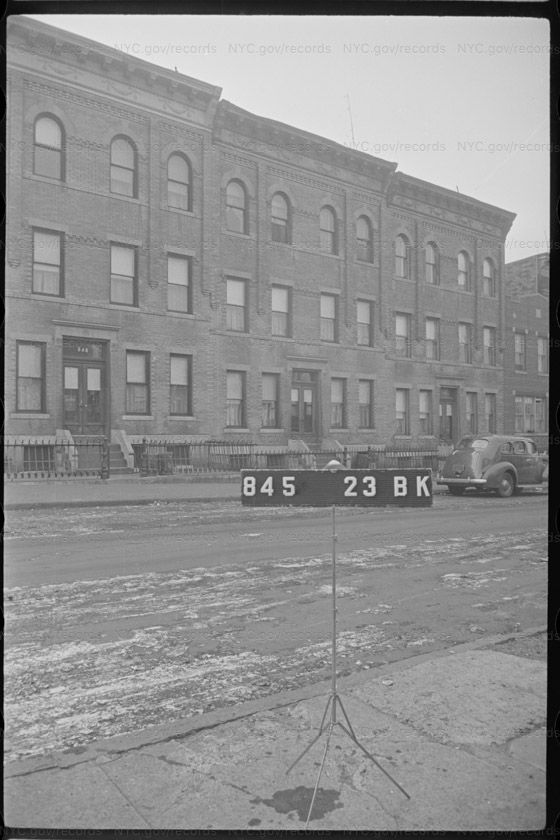 This apartment building was built in 1910 and is located in Sunset Park, a working class neighborhood of Brooklyn. This location would have been considered the 8th Ward until NYC retired this system in 1938. Their building was located less than two blocks from the East River waterfront, around the corner from the Brooklyn Army Terminal and a few blocks from Bush Terminal. During this time, most residents of this community were members of a trade union, and many were employed by industries related to the waterfront. This is reflected in the "industry" column of the 1930 census showing "ship yard" as the place of work for many residents.

Photo from NYC Digital Archive, 1940
---
145-24 231st Street
Springfield Gardens, Queens
Francis Desales Van Manen and Gertrude Murphy moved to this house located in Springfield Garden sometime before 1940, and had two more children since 1930: Joan and Dolores.

Springfield Gardens is a residential neighborhood in eastern Queens, about a mile from the border between New York City and Long Island. The photo in black and white was taken in 1940, the same year the census indicates they were living in it. The house is still standing today: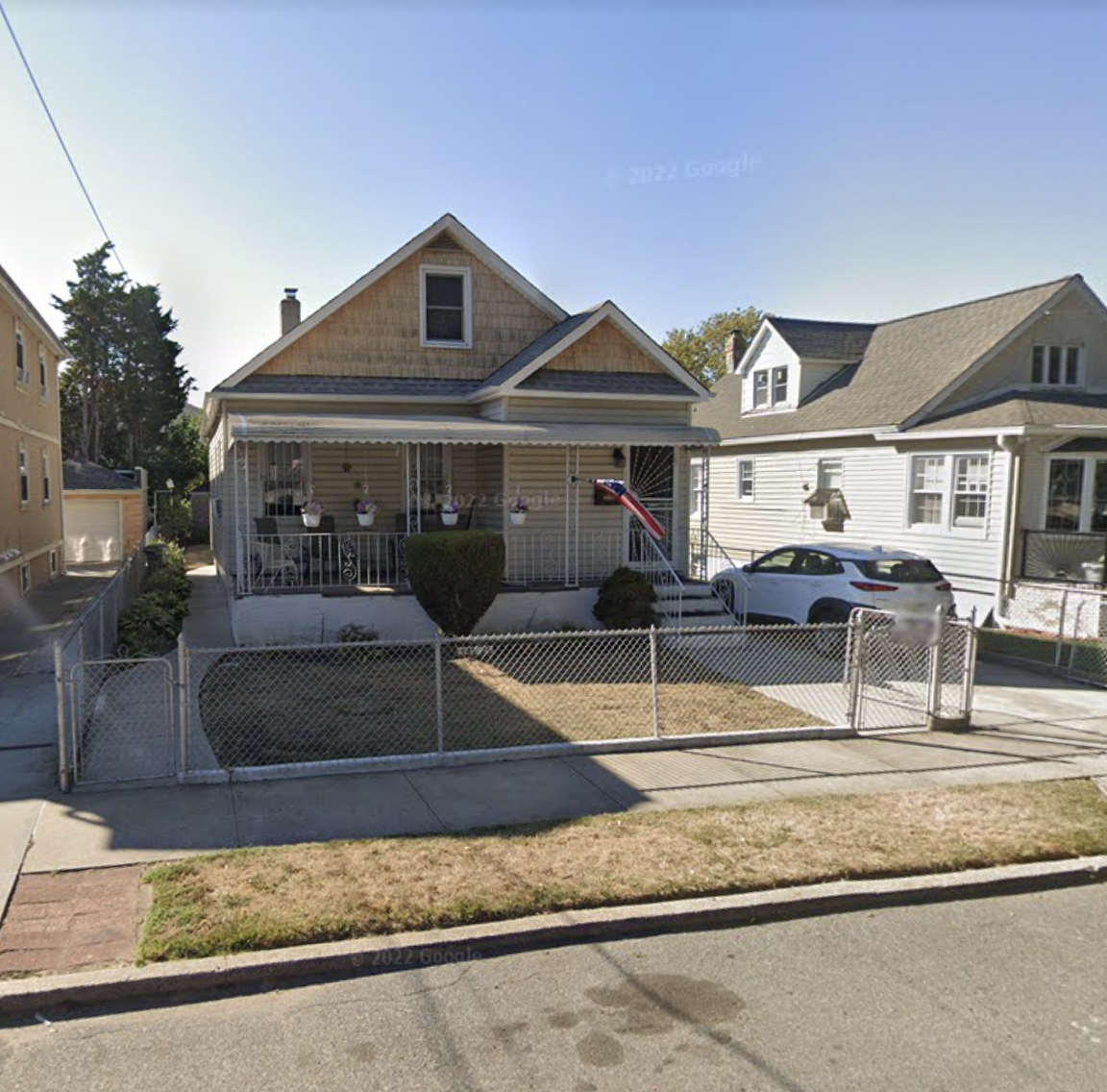 Photo from Google maps, 2021
Photo from NYC Digital Archive, 1940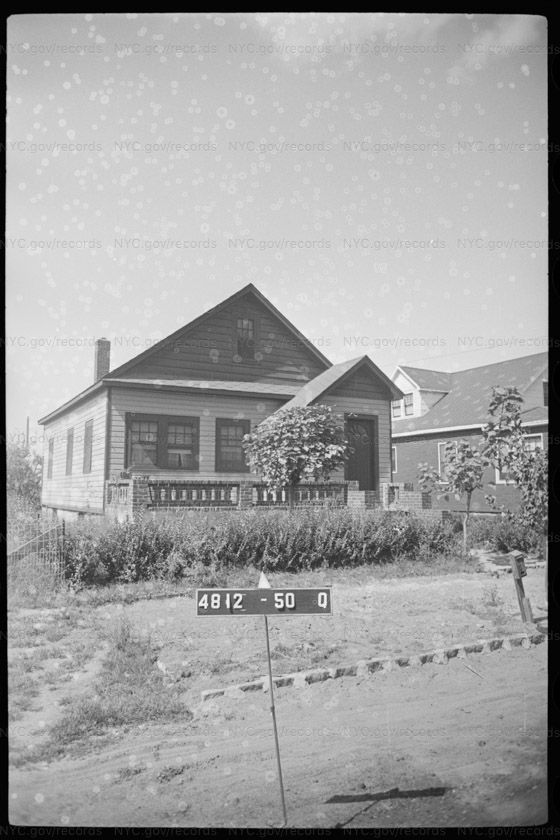 ---
415 Autumn Avenue
Cypress Hills, Brooklyn
Francis Desales and Gertrude Murphy lived at this location in Cypress Hills Brooklyn in 1950, with their daughters Joan and Dolores, and their now youngest daughter Lorraine. Gertrude's father, Thomas, was still living with them at this time.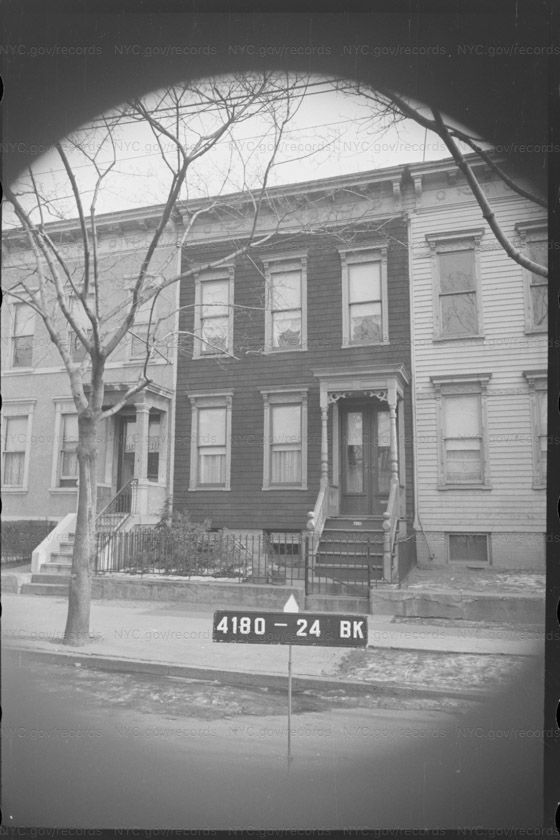 The house was owned by Francis and Gertrude and then owned by their children Francis Joseph, Gertrude, and Lorraine after Gertrude's death in 1973. It was later sold in 1977.

Photo from NYC Digital Archive, 1940
---